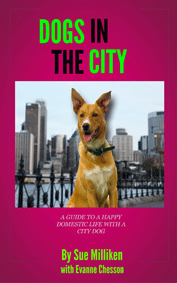 Life is not all about humans. The most exciting , challenging and significant relationship is the one you have with your dog. That is what millions of people around the world have discovered.
Most of those millions live in cities. Renowned film producer Sue Milliken (with legendary animal trainer Evanne Chesson) has put together a collection of training information, anecdotes and insights that will make you laughand give you the keys to living happily together in sync with your dog in the urban environment.
"Dogs In The City",  is now available on Kindle at Amazon.com for $9.99.